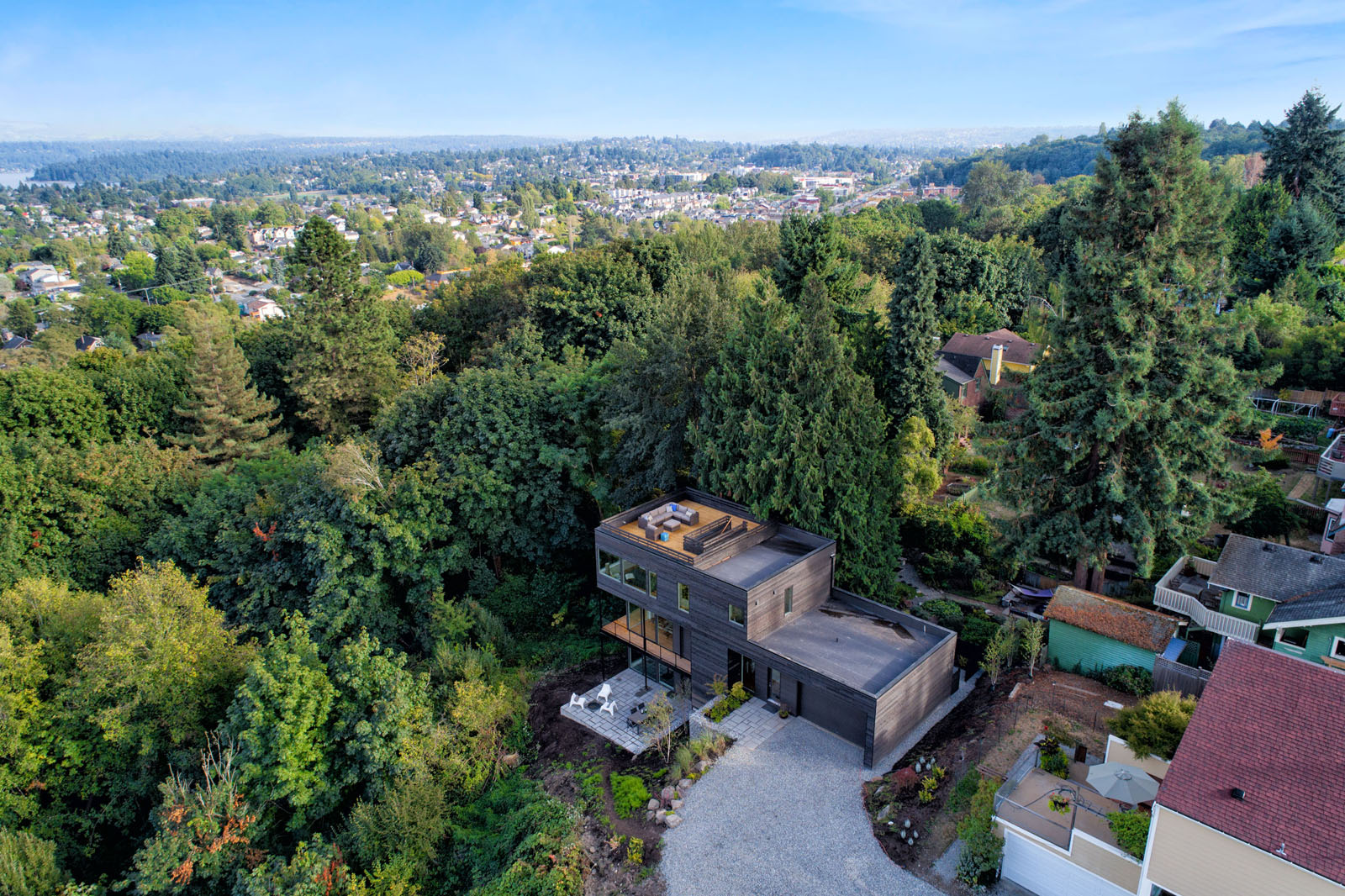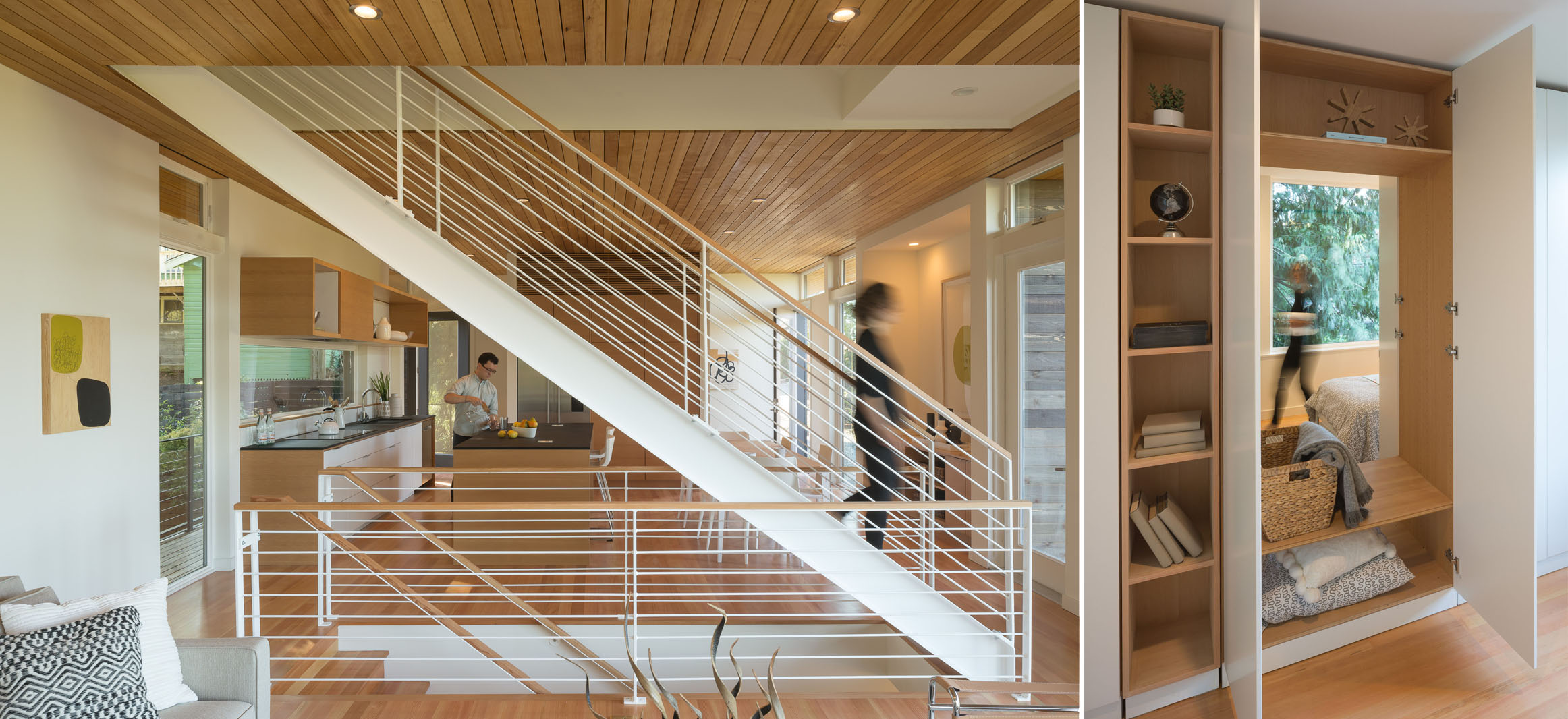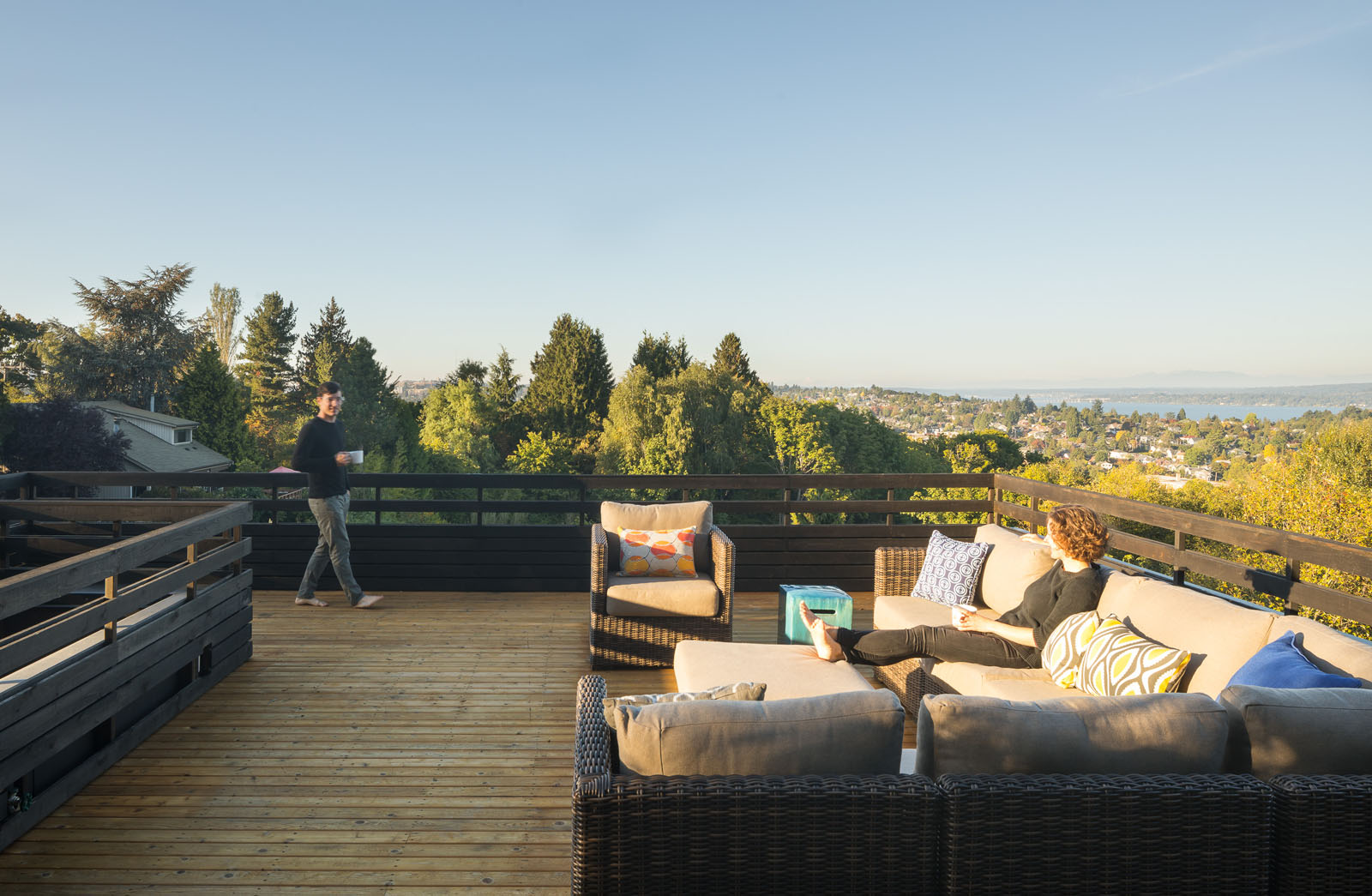 2018
Location
Seattle, WA
Architect
Hybrid Architecture
Construction
Hybrid Assembly
SF
3,000 SF
Client
Hybrid Development
Photography
Lara Swimmer, Spencer Radford

On a steep lot that would have traditionally been deemed unbuildable, Hybrid designed and built Hill House: an adaptable single-family home featuring a wrap-around porch and unexpected privacy for an urban dwelling–not to mention amazing views of Seattle and the mountains beyond. The home includes an ADU on the lower level, as well as a flex space with moveable full-height wardrobes that allow the space to be reconfigured at-will by the homeowners.
Engaging in socially responsible architecture is an integral part of Hybrid ' s philosophy of practice–that ' s why for Hill House, the firm partnered with a longtime Seattle resident to turn their oversized lot into a total of three homes. Keeping the existing home, two additional lots were subdivided from the original parcel–one lot went to building a custom home for the existing home owner and on the other, Hybrid designed, built, and developed the Hill House. –
The Hill House site would have been overlooked by a typical developer due to the steep topography but because of Hybrid ' s expertise as a designer and builder, the additional costs and construction hurdles were minimized from the beginning of the project. The slope offered challenges–but also opportunities to engage creatively on multiple levels. The site is now able to offer incredible privacy and views to the forest below and beyond. With no neighbors to look in, the house could be as open and transparent as desired, a valued amenity in daylight-challenged Seattle. –
The design team envisioned the house as a ship with a continuous deck around the perimeter that allowed large sliding glass doors off the living room to take in the scenery and open to the ravine. The house further engaged its surroundings with a generous patio and fire pit off the lower level den and rooftop deck to take in views of the distant lake and mountains. The upper level bedroom incorporates a flex space with moveable full-height wardrobes that allow the space to be reconfigured at-will by the homeowners. The design team realized early that the sloped lot would allow for the incorporation of an ADU with separate entrance and private exterior space. Once the initial building section was established, the team worked to make the lower level as flexible as possible for the future homeowners.
Tackling a challenging lot meant taking on risk thoughtfully, a practice necessitated by the market ' s demand, while Hybrid ' s design ethos guided the firm in selling the home at a rate accessible for middle-class families in the city. By fully utilizing their unique and layered skill set, Hybrid was able to create three homes in the place of one without displacing the original residents and providing them with access to the equity of their home ownership.